708 Journey of the Soul
Online
Thurs., May 18 – June 22,
6:30 – 9 p.m.,
on Zoom, $250

Access Your Class Materials
To access the class workbook and class recordings, click on the button below.
Retake
Enter coupon code RETAKE at checkout.

ABOUT THE CLASS
Journey of the Soul invites you to affirm and experience your inner Divinity, honor your humanness, and appreciate the beauty of who you are in the here and now on your path to higher expressions of your Divine nature.
The most common themes in this class are looking for the magic, the opportunity for growth, and the Sacredness in every situation in life especially the challenging ones. This means looking for the magic and Sacredness within oneself.
The emphasis on honoring the Divine, found within New Thought teachings, is complemented by the emphasis on spiritual psychology to honor humanity as well as Divinity. When you embrace and express what you consider to be your weaknesses and your shadow self, you bring them out of the darkness and into the light of your divinity. Adding training tools for healing emotions and honoring your humanity allows for a balanced and guided approach to healing and transformation.
The specific objectives to achieve the above in this class are to:
Define the soul and identify as it
Discover the Sacredness in life experience
Increase self-love
Experience oneness through deep meditation
Demonstrate the thought shifting practice
Honor, heal, and redirect emotional patterns
Explore the Sacredness and magnificence of the body, sensations, and sexuality
Identify and direct soul/life purpose
INSTRUCTOR
Michelle Scavetta
Assistant Minister
THINGS TO KNOW
Online
Six-Week Evening Class
Thurs., May 18, 25, June 1, 8, 15, & 22
6:30 – 9 p.m., on Zoom, $250

Prerequisite: Beyond Limits (#101)

This course is a Center for Spiritual Living certified course that qualifies for entering our practitioner training program. Class #708.

Don't wait. Class starts soon:
MATERIALS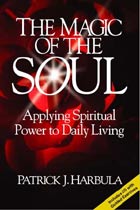 The Magic of the Soul
Applying Spiritual Power to Daily Living

by Patrick J. Harbula
LOCATION
Online. The Zoom link will be emailed after registration.