101 Beyond Limits – Winter
Online
Tues., Jan. 17 – March 7,
6:30 – 9 p.m.,
on Zoom, Love Offering

Access Your Class Materials
To access the class workbook and class recordings, click on the button below.
ABOUT THE CLASS
Why settle for a good life when you can have a great life…
Do you sometimes feel overwhelmed by your life and out of control … like it's happening to you rather than by you?

Maybe you have a good life but you struggle in some areas and wish they could be better.

Do you wish you had a greater experience of __________________ (health, abundance, fulfillment, connection, etc.) in your life?

Maybe you simply wish to have a greater experience of living a purposeful, spiritual life.
Stop wishing. Start believing. This could be you:
Don't be limited by a good life when you have the power within you to create a great life.

Imagine feeling a greater sense of confidence and optimism that comes from knowing what you want in life and feeling you have the tools to create it.

Health. Prosperity. Connection with others. The principles taught in Beyond Limits can be applied in every area of your life.

Imagine the sense of confidence and empowerment when you realize that you are not in this alone. There is a power for good—greater than you are—that is ready to actively co-create your life with you.
This is what we mean by "Beyond Limits."
Many of the things in our life that we consider to be limitations are arbitrary and artificial. We picked them up somewhere along our journey. From parents, teachers, well-meaning individuals who didn't know any better. And when we believe them, they become the blueprints by which that greater power co-creates our life.

In Beyond Limits, you'll have the opportunity to examine those beliefs, and you'll gain the tools to both let go of those beliefs which no longer serve you, and create new beliefs which boldly express the person you want to be and, in Truth, already are.
By the time you complete this class, you will:
Understand that everything is first created in Mind and is then brought forth into our experience by a Creative Process that is always at work. Think of it this way: you can't grow spinach if you plant corn.

Learn a five-step method—called affirmative prayer—that serves as a powerful tool to create the mental blueprint from which your life is continually built.

Gain insights into your Abundance Quotient which will help you understand the areas in your life in which you accept abundance… and the areas that could use some work.

Unearth your hidden beliefs. These unconscious roadblocks get in your way and keep you from moving forward. The first step to letting them go is discovering and acknowledging them.

And this is just the first few weeks…
INSTRUCTOR
Michelle Medrano
Lead Minister
Michelle began studying the principles of Science of Mind and Spirit at a young age. Her continued study and application of these principles has formed the foundation of a successful and prosperous life, helping her to become a Lead Minister at one of the largest New Thought communities in the world. She is an outstanding teacher and takes great pride in helping others understand and embody the same principles that have brought her so much abundance, joy, and success.
THINGS TO KNOW
Online
Eight-Week Evening Class
Tues., Jan. 17, 24, 31, Feb. 7, 14, 21, 28, & March 7,
6:30 – 9 p.m., on Zoom, Love Offering


Prerequisite: None. If you are new to our classes, Beyond Limits is our foundational course and required for all other classes.
Registration is required.


This course is a Center for Spiritual Living certified course that qualifies for entering our practitioner training program. Class #101.

Don't wait. Class starts soon:
MATERIALS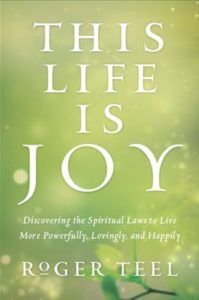 This Life Is Joy
Discovering the Spiritual Laws to Live More Powerfully, Lovingly, and Happily

by Dr. Roger Teel
LOCATION
Online. Zoom link will be emailed after registration.